User Manual
Product compatibility:
Windows Mobile version 4.2 and later:

PocketPC 2003;
Windows Mobile 5;
Windows Mobile 6.0 and 6.1.

Minimum screen resolution: 240x240;
Touch-screen is recommended.
Available functions:
Deleted files recovery (undelete);
Recovery after storage format (reconstruction);
Recovery after file system damage (reconstruction);
Lost data recovery by type (IntelliRAW™).
Technical specifications:
Supported file systems: FAT, FAT32, Transact FAT and FAT32;
Supported storages: any compatible memory storage;
Trial limit: before registration software will not copy files above 64KB;
Storages limit: data recovery from main device memory storage is not available for most devices;
Product is based on desktop UFS Explorer Standard Recovery (Raise Data Recovery for FAT) product.
General Software use:
Download, install and run.

The software must NOT be installed to storage you are going to recover data from.

The software start shortcut is available under device 'Programs' menu group: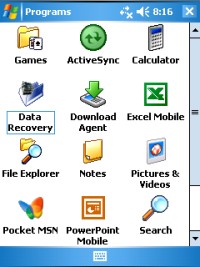 Start the application and storage selection form will appear: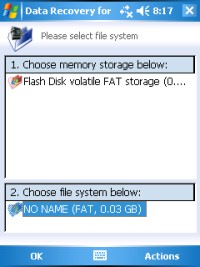 Select a storage file system and continue to next step: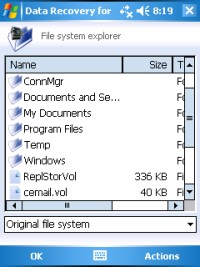 The file explorer allows you to browse selected file system. The 'Data Recovery' action is available from 'Actions' menu: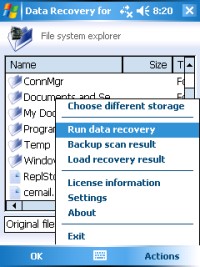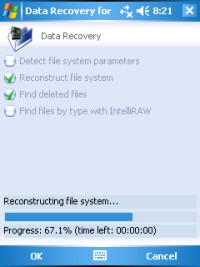 Choose required recovery options and start the recovery. After process completed it will return back to file explorer. You may switch between file views by file set selection from drop-down list at bottom.
Now, just copy the files to safe location with 'Copt to...' option that is available from file, folder or group context menu.
Data Recovery from Main Memory:
The data recovery from main storage may be availabe (e.g. on ETEN devices) or may be not available (e.g. on HTC Diamond and similar devices). Due to technical specifics of this storage (virtual, volatile file system), deleted files recovery or file system reconstruction may give wrong results. You may still recover good files from Main Storage (if available) by using IntelliRAW™ recovery method.
To try to recover data from Main Memory you need to:
Data Recovery from Extra/External storage:
Data recovery from extra or external storages has no storage-related limits, so all data recovery options are available. This kind of storages is usually represented by two instances in file system selection dialog: as the RAW storage ('chip' icon) and as WindowsCE FAT storage ('folder' icon).
For storages with damaged file system RAW access mode is preferred.
To recover data from extra/external storage (storage card etc.) you need to:
If no enough space is available on main storage:
After recovery scan complete, backup the scan result (the option is available from 'Actions' menu);
Copy as much files as possible to main memory;
Swap memory card with other (new, compatible, empty flash memory card) and move files from main memory there with Windows Mobile explorer;
Swap memory card again to return the card you are recovering data from.
Copy next portion of files to main memory (this could require file system selection again and loading scan result).
Repeat steps above until all data will be copied to new memory card.
Data Recovery from other device:
Make sure your other device (non-Windows Mobile phone, photo camera, MP3 player etc.) has compatible storage card. If yes, just insert the card to your Windows Mobile device and run data recovery as described above.
It's recommended to protect yourself and use compatible flash cards with your digital devices. For example if your mobile device supports miniSD cards (as well as half-size MMC) you may use on other device same miniSD card with special size adaptors (miniSD with full-size adaptor intead of SD and so on).